Access Small Business Administration (SBA) loans at Financial Plus
SBA is a branch of the federal government. At Financial Plus you have access to the two most popular SBA programs, 504 and the SBA 7(a). The SBA 504 loan program is used to finance the purchase of real estate and equipment and the SBA 7(a) loan program can be used to finance A/R, inventory, equipment and real estate.
Your SBA loan is funded by us, and a portion of the loan is guaranteed by the federal government. In order to obtain an SBA loan, businesses must meet certain qualifying criteria.
Ready to get started? Together our team of business experts bring knowledge and value that goes beyond our products. Learn more about our team below.


To qualify for an SBA Loan you'll need:
Proof of cash flow
660 minimum credit score
Management capability
Collateral
Personally guarantee the loan (only for individuals who own 20% or more of their business)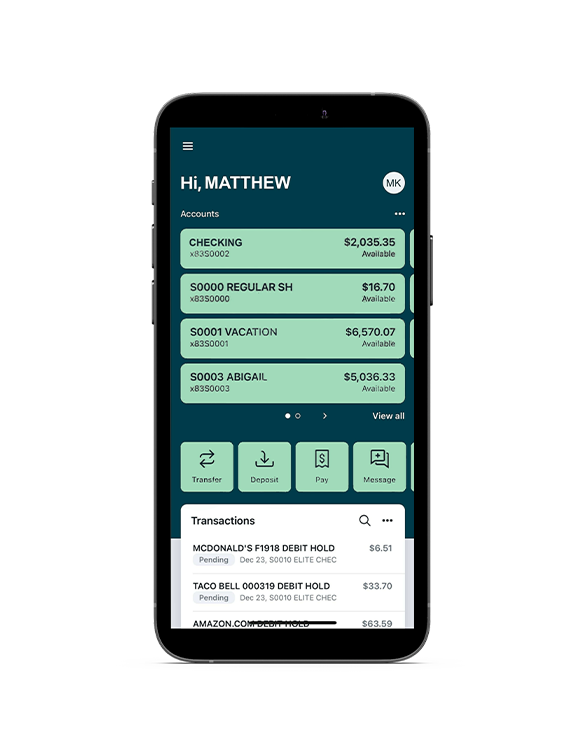 All your banking in one place
Easily control your money by having your personal and business accounts with Financial Plus. 
Nathan Adams - Director of Business Services
Meet Nathan
Nathan is our Director of Business Services bringing over 30 years of financial services and commercial lending experience. He has held a variety of roles, from internal audit, underwriting, lending and sales leadership. He takes the time to know and understand his business members so that he can provide them with the best solution and experience.
Community action:
Flint and Genesee Chamber, Waterford Chamber of Commerce, Treasurer for Flint Swim and Racquet Club
Matt Schroeder - Business Relationship Manager
Meet Matt
Matt Schroeder brings over 13 years of commercial business experience to our membership. Specializing in small business and equipment loans, Matt likes to service a variety of business membership requests.
Schroeder shares, "I enjoy working with new and expand­ing businesses and providing solutions to their lending needs. Supporting our members so they have the necessary financing and advice to succeed is what being part of a credit union is all about."
Community action:
Imlay City Rotary, Premier Night Fundraisers, and local Chambers of Commerce.
Ready to get started?
Cell:
(810) 824-1695 (call or text)
Email:
MSchroeder@myfpcu.com
John Hunter - Business Relationship Manager
Meet John
Bringing over 22 years of banking and commercial experience, John Hunter has held roles from underwriting to lending. Hunter has extensive experience with SBA lending for businesses, winning awards for SBA 504 deals.
Community action:

 
Optimist club, Flint Chamber, Boys and Girls Club of Flint, Great Lakes Bay Economic Club
Ready to get started?
Email:
JHunter@myfpcu.com
David Lopez - Business Relationship Manager
Meet David
David has over a decade of experience lending to business owners utilizing both conventional and SBA financing for equipment, real estate, access to working capital, acquisitions and expansions. 
"As a Branch Manager, I truly enjoyed getting to know each family, watching the family grow, helping to improve the lives of clients through financial solutions and advice. Now, as a Commercial Lender, I enjoy getting to know each business owner, watching the business grow, helping to improve the lives of business owners and the well-being of their business through comprehensive and customized business banking solutions tailored to the financial needs and circumstances of their business."
Community action:
 Salvation Army, Junior Achievement teaching financial literacy, work readiness, and entrepreneurship in local classrooms, local Chambers of Commerce
Ready to get started?
Office: (810) 244-2031
Cell: (989) 860-9108 (call or text)
Email: DLopez@myfpcu.com
Amy Pierson - Business Sales Support Supervisor
Meet Amy
Amy is our Business Sales Support Supervisor bringing us over 30 years of financial services and banking experience. She has held roles in retail banking, mortgage banking, business banking and wealth management.  Amy makes excellent member experience at the heart of what she does on a daily basis.
"I strive to build long term member relationships by providing superior service with an upbeat and professional attitude," says Amy.
Community action: President Burton Kiwanis, Food Bank of Eastern Michigan, Hurley Children's Hospital
Ready to get started?
Office: (810) 244-2848
Email: APierson@myfpcu.com
Solutions for every aspect of life
Rates, terms, and conditions are subject to change and may vary based on creditworthiness, qualifications and collateral conditions. All loans subject to approval. See Credit Union for complete details.