Experience the freedom of depositing checks on-the-go
Deposit checks anytime, anywhere with remote deposit. It's as simple as signing the back of your check and snapping a photo in digital banking!
How do remote deposits work?
Download the MyFPCU mobile app from the App Store or Google Play Store. Once you get into the MyFPCU app, select "Deposit Checks" from the left side menu.

Sign your check: Before depositing the check through remote deposit, be sure to endorse the back of the check with your signature and write "For Remote Deposit Only."


Enter deposit details: Input the deposit amount and choose the account where you want the funds to be deposited. 

Snap a photo: Using the MyFPCU app's remote deposit feature, follow the on-screen instructions to snap photos of the front and back of the check. 

Submit your deposit: Once you've verified all the details, submit your deposit through the app. 

Confirmation and notification: After successfully submitting your deposit, you will receive a confirmation message. 
Have additional questions regarding our remote deposit feature? Click the button below.

Stay Informed
Enroll in E-Documents and alerts within digital banking and never wonder what your balances are.

Easy Payment Options
Take care of your bills automatically with recurring or one time payments.

Move your Money
Move money to and from another credit union or bank by selecting Transfers in digital banking.

Tell your Friends. Get $50! 
You'll both receive $50 when you refer a friend or family member.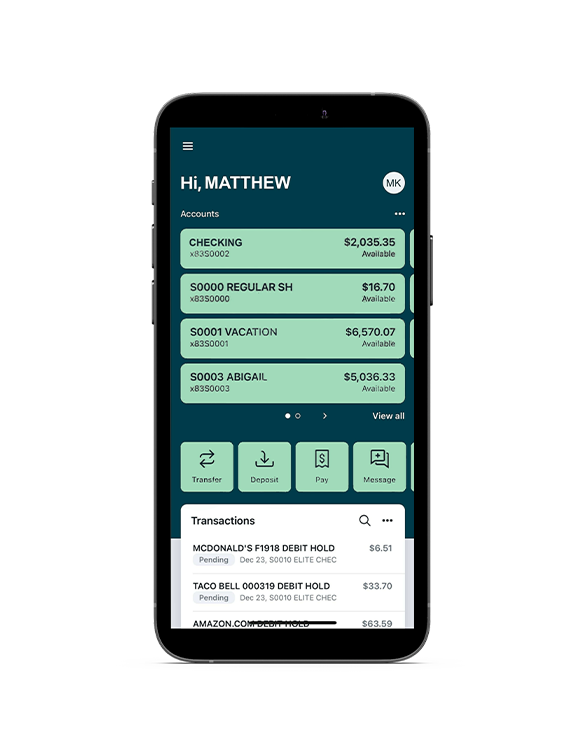 Easily manage your account
Sign up for digital banking in minutes online or at any branch location and download the mobile app to take us wherever you go.
The deposited funds will be made available on the 2nd business day. 
Yes.  Your check image is never stored on your device.  When it is sent to us, it is encrypted and uses the same security protocols as our mobile and online banking services.
You should keep your check for 30 days. After 30 days, you should shred the check.
You should write "For Mobile Deposit Only" on the back of the check, and then sign the check immediately beneath.
Click on the Deposit button in the Financial Plus mobile app, and follow the instructions.
Do I have to enroll prior to completing a Remote Deposit Capture?
Yes. The approval process will take up to two business days after you request enrollment.  You will receive an e-mail confirmation when you are enrolled. 
For members must meet the following standards:

Be at least 18 years old
Must have Financial Plus Digital Banking
Not available for Representative Payee Accounts
For Business/Commercial accounts:

For Commercial Accounts the last 3 months of checking account statements will be reviewed.
Solutions for every aspect of life
Subject to approval. Some restrictions apply. See Credit Union for complete details.