Best credit union for homebuyers in Fenton
We believe in dream homes and making them happen. When you apply for a mortgage with Financial Plus Credit Union in Fenton, the process will be guided by one of our mortgage experts to make your experience as easy as possible from start to finish. We are your mortgage partners for the entire lifetime of your loan - and beyond!
You can apply for a home loan online, by phone, or in one of our conveniently located branches.
Just getting started?  Check out our mortgage calculator.  We make it easy for you for to look at mortgage rates and estimated payments for your new dream home.  Simply input you're your estimated home purchase price, down payment, loan term, and estimated mortgage rate.  You can always pick up the phone to call one of our experts to (get a free evaluation, help get the process started, to guide you in the right direction).
We are located right down the road on Silver Parkway near Home Depot. Visit us at our Fenton location!
Financial Plus makes homebuying less overwhelming
Are you located in Fenton, Michigan or surrounding areas and ready to start shopping for a new home? Learn the steps to buying a new home and see what makes Financial Plus Credit Union the best credit union for home loans. If you have never bought a home before, you might have many questions or be worried about the process, but you don't have to be. At Financial Plus we help first-time homebuyers in Genesee county and beyond navigate the process and make it as simple as possible.
How to purchase a new home:
Get pre-approved. The first step in the home buying process is to get preapproved for a home loan. This will help you and your realtor determine your budget and will expedite the process. A list of a few of the items to have on hand:

Proof of income 
Proof of employment 
Proof of assets
A photo ID

Once you submit your application, we utilize local decisioning for home loans with fast approvals.



Start Looking for Your Home. Once you are pre-approved, you can begin shopping for your new home. Being pre-approved let's you know how much you can afford based on your current credit score and assets. If you need additional help configuring what you can afford, check out our home affordability calculator. Once you find the perfect place, you and your realtor will make an offer.


Start Looking for Your Home. If your offer is accepted, we'll need to appraise the home to make sure that you are paying a fair price. You will also need a title search and will want to get a home inspection and any other inspections.


Step 4: Close on Your Home. After your appraisal and title search is complete, we can schedule your closing. Then we'll give you the keys, and you can begin your new journey as a homeowner. 
Why Choose Fenton's Financial Plus Credit Union?
At our Fenton location, we believe that home finance shouldn't be complicated or overpriced. As a credit union, we have your best interests in mind, allowing you to get some of the lowest rates in the industry. We offer: 
An easy online application

Local mortgage experts to assist you with the process


24/7 access to your account & easy payment options


Discover Some of the Best Mortgage Rates in Fenton, Michigan and beyond
If you are looking for the best credit union for home loans, you are in the right place. Give us a call at (810) 244-2134 today to get started. We can't wait to help you get into your dream home. we offer some of the most affordable home loans industry so that you can save big. If you are ready to get preapproved for your home loan, contact us at (810) 244-2134 to begin

Conventional Fixed Rate
Lock in your rate for the entire term of the mortgage. Great for just about any buyer!

Federal Housing Administration (FHA)
Helping borrowers in less-than-perfect financial situation buy homes.

We offer more options like Jumbo, Rural Development (RD), MSHDA, and Vacant Land loans.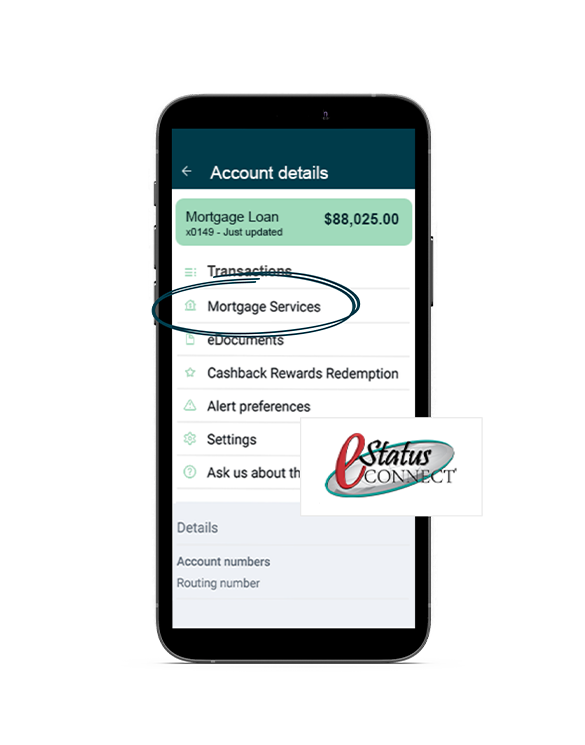 Manage your loan with eStatus Connect
Use eStatus Connect within your digital banking to make payments and view:
Payment due date
Payment history
Current loan balances
Previous and current year-to-date totals

Upcoming interest and escrow changes
A fixed-rate mortgage comes with an interest rate that won't change for the life of your home loan. Monthly principal and interest payments on a conventional fixed-rate mortgage remain the same for the life of the loan making it an attractive option for borrowers who plan to stay in their home for several years.
Benefits and considerations:

No interest rate surprises - the interest rate won't change for the life of your loan, protecting you from the possibility of rising interest rates
The lowest fixed rate - Conventional mortgages may offer a lower interest rate than other types of fixed-rate loans
Refinancing options available - Conventional fixed-rate mortgages are available for refinancing your existing mortgage, too - and 15- and 20-year options are especially popular.
A jumbo loan is for someone financing a home in a highly competitive real estate market, exceeding conventional loan limit of $548,250 for a single-family home in Michigan. Jumbo loans come with different underwriting requirements versus a conventional loan and tax implications (see your tax advisor).
Federal Housing Administration (FHA)
This program is designed to help borrowers in less-than-perfect financial situation buy homes.  This program is especially useful for first-time homebuyers who may not have a lot for down payment. This also provides opportunities for refinancing.
Michigan State Housing Development Authority (MSHDA)
MSHDA loans are available to first-time homebuyers state-wide and repeat homebuyers in targeted areas. All homebuyers work directly with a participating lender. Household income limits apply and can vary depending on family size and property location. Down payment assistance is available.
Sales price limit: $224,500
Minimum credit score of 640 required or 660 for multiple-section manufactured homes
A rural development loan is a low interest, fixed-rate loan provided to qualified persons directly by USDA Rural Development. Financing is offered at fixed-rates and terms through a loan from a private financial institution and guaranteed by USDA Rural Development for qualified persons. 
When choosing to build, it's common that the land must be purchased before building the home. Vacant Land loans from Financial Plus provide the financing to do just that. 

A Vacant Land loan is a great choice for future home builders who:
Have a plan, but may not want to jump right into building a home immediately
Have a building project that may be scheduled out a year or so in advance

Solutions for every aspect of life
Mortgage Loan Officers and NMLS Numbers:
Financial Plus Credit Union - NMLS License #586579
Rachelle Kippe - NMLS ID #423273
Brooke Taylor-Huey - NMLS #642942 
Rosemary Boan - NMLS #1531295
Amy Ricupati - NMLS #674678
Sherrie Dalton - NMLS #629441
Derek Lewis- NMLS #2335785

Rates, terms, and conditions are subject to change and may vary based on creditworthiness, qualifications, and collateral conditions. All loans subject to approval. See Credit Union for full details.