Three months. ZERO payments. Financial Plus Credit Union Motorcycle Loans
Feel the wind in your hair and the thrill of the open road as you begin on your motorcycle adventure. At Financial Plus, we have the tools, knowledge, and resources to help make your motorcycle dreams come true. Apply today and get pre-approved before you shop!

New! 1% off your next loan rate:
As low as 7.24% APR*

 

when you apply for a motorcycle loan and enroll in direct deposit and auto pay
What you get with a motorcycle loan:
Three months. ZERO payments.**

Flexible terms for affordable payments
Easy online pre-approval in minutes
Refinance options to save you money
Confidence knowing your budget before you shop
How to apply for an FPCU motorcycle loan:
Apply online by clicking the button below

Stop into any of

 

our locations

 

and chat with a representative

Discounted Loan Rates
Save money on your payment just for being a loyal member.


Tell your Friends. Get $50! 
You'll both receive $50 when you refer a friend or family member.

Easy Payment Options
Take care of your bills automatically with recurring or one time payments.
Ready to ride with FPCU? Your motorcycle journey begins here
Competitive rates. Smoother rides:

At FPCU, you'll enjoy competitive interest rates that ensure you get the most out of your motorcycle ownership without stretching your budget. Lower rates mean more enjoyable rides and less financial stress.

Tailored for you:

We know that your motorcycle journey is uniquely yours. FPCU offers personalized loan solutions that cater to your specific financial needs and preferences, ensuring a seamless ride from start to finish.



Local connection. Limitless adventures:

As a Michigan-based credit union, we understand the allure of hitting the road and exploring our beautiful state. FPCU is your local partner for embarking on unforgettable motorcycle journeys near and far.



Financial empowerment:

Beyond loans, FPCU provides the tools, resources, and guidance you need to manage your finances efficiently while enjoying the thrill of motorcycle ownership.



Your partner for life:

Your journey with FPCU doesn't end with your motorcycle loan approval. We're here to support your financial path throughout life, offering guidance, resources, and unwavering support for whatever path you're on next.
Get pre-approved for a motorcycle loan at FPCU
Getting pre-approved for a motorcycle loan at Financial Plus is your ticket to riding with confidence. Discover why pre-approval is the smart choice for your motorcycle loan:
Know your budget: Pre-approval helps you understand your purchasing power. You'll know exactly how much you can afford, allowing you to shop for a motorcycle that fits your budget without any surprises.
Shop with confidence:

With a pre-approved motorcycle loan from FPCU, you'll be a step ahead when you visit dealerships or private sellers. You can negotiate confidently, knowing that your financing is already secured.

Faster transactions:

Pre-approval speeds up the purchasing process. Once you find your dream motorcycle, you can finalize the deal quickly without waiting for financing to be arranged.

Tailored terms:

FPCU's pre-approval process allows us to tailor loan terms to your unique financial situation. You'll enjoy a loan that fits your needs, whether it's a specific repayment period or competitive interest rates.

No obligations:

Pre-approval doesn't commit you to taking the loan. You have the flexibility to explore your options and decide if the pre-approved loan meets your needs before making a commitment.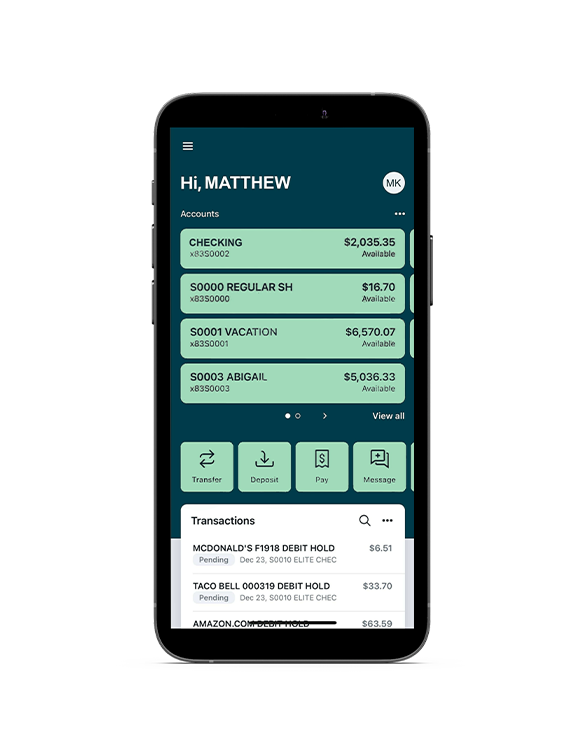 Easily manage your loan
Sign up for digital banking in minutes online or at any branch location and download the mobile app to take us wherever you go.
Solutions for every aspect of life
*APR=Annual Percentage Rate.

Refinances of eligible Financial Plus Credit Union loan(s) qualify for member discount at today's rates. The Loyalty Discounts exclude lines of credit, Greenlight Loan, mortgage, home equity, and commercial loans. Direct Deposit of the payroll is required. If Direct Deposit and Auto Pay requirements are not maintained, you may be subject to a Direct Deposit/Auto Pay Cancellation Fee in the amount of $125.00.
**Offer to defer payment for up to three months is subject to approval. Interest begins to accrue at the time of disbursement and will be amortized over the life of the loan. Restrictions apply. Not valid on current loans. Expires December 31, 2023. See Credit Union for complete details.