Invest in your future
Individual retirement savings accounts (IRAs) allow you to cover your retirement or educational needs in the form of savings accounts and share certificates.
What you get with an Individual Retirement Account (IRA) :
No monthly fees

Digital banking loaded with options
Deposit checks from your phone

Educational Savings Account (ESA)
Designed to help families pay for education related expenses
with tax-free withdrawals.

Financial Education
Explore our educational library for resources to help you with your finances.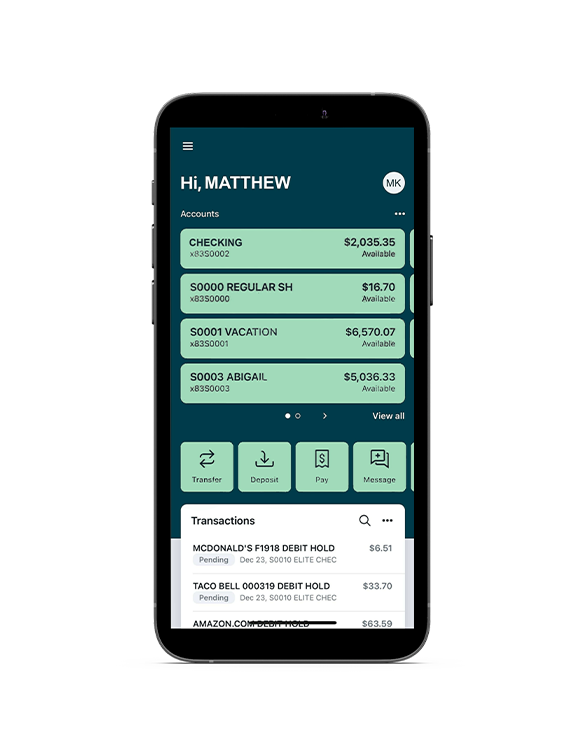 Easily manage your account
Sign up for digital banking in minutes online or at any branch location and download the mobile app to take us wherever you go.
What is a Traditional IRA?
A Traditional IRA certificate is used for money that has not yet been taxed (pre-tax dollars). Your pre-tax dollars grow and compound without being taxed until the day that you withdraw them. You may begin withdrawing the funds at age 59 ½ and will be required to begin making annual withdrawals, sometimes called "required minimum distributions" the year in which you turn 70 ½. Most of our regular CD rates and terms apply to traditional IRAs as well.
An individual retirement account allowing a person to set aside after-tax income up to a specified amount each year. Earnings on the account and withdrawals after age 59 1/2 are tax-free. Consult a tax professional for additional restrictions which may apply. 
What is an Educational Savings Account (ESA)?
Also known as "Coverdell IRAs." A Coverdell ESA account is a trust or custodial account designed to help families pay for education and education related expenses. Coverdell ESA offers tax-free earnings growth and tax-free withdrawals when the funds are spent on qualified expenses. 
These accounts come in various forms including savings and CDs. Ask us how an ESA might be right for your family.
Solutions for every aspect of life